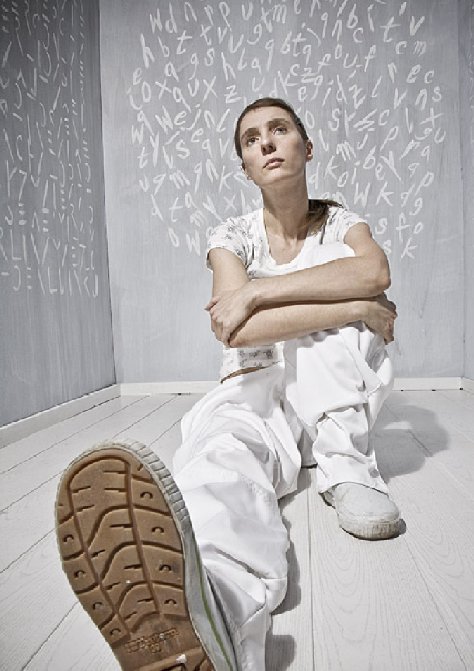 Antye Greie aka AGF is a vocalist, musician, producer, and artist. She was born and raised in East Germany and developed an early interest for music and poetry and philosophy. She has been exploring speech and spoken word combined with electronic music, as well as working on sound installations, pop songs, calligraphy and her website poemproducer.com.

In 2006 she gave birth to a daughter fathered by partner Sasu Ripatti.

She lived in Berlin from 1996 to 2008. In 2008 she moved with her family to Hailuoto, Finland.

Greie performs as AGF (solo), AGF/DELAY (with Vladislav Delay), with Zavoloka, The Dolls (with Vladislav Delay and Craig Armstrong), Laub (with Jotka), and The Lappetites (with Elaine Radigue, Kaffe Matthews and Ryoko Kuwajima) .
Discography
AGF, Beatnadel, 2011, AGF Producktion, CD
AGF, Gedichterbe, 2011, AGF Producktion, CD Book
AGF & Craig Armstrong, Orlando, 2011, AGF Producktion, CD
AGF, Filter, 2010, AGF Producktion, digital
Greie Gut Fraktion, Baustelle, 2010, Monika Enterprise, CD
Antye Greie aka AGF, Einzelkaempfer, 2009, AGF Producktion, CD
AGF/DELAY, Symptoms, 2009, B-Pitch, CD
AGF, Dance Floor Drachen, 2008, AGF Producktion, digital
AGF, Words Are Missing, 2008, AGF Producktion, CD
LAUB, Deinetwegen, 04/2007, AGF Producktion, CD
Zavoloka & AGF, Nature Never Produces the Same Beat Twice, 04/2006, AGF Producktion & Nexsound, CD
AGF.3 & Sue.C, Mini Movies, 02/2006, Asphodel, CD
The Dolls, The Dolls, 2005, Huume Recordings, CD
AGF/DELAY, Explode, 02/2005, AGF Producktion, CD
The Lappetites, Before The Libretto, 10/2005, Quecksilber, CD
AGF, Language Is The Most, 2004, Quecksilber, CD
AGF, Westernization Completed, 11/2003, Orthlong Musork, CD, 06/2004, AGF Producktion, CD
LAUB, Filesharing, 02/2002, Kitty-Yo, CD
AGF, Head Slash Bauch, 01/2002, Orthlong Musork, CD/LP
LAUB, Intuition Remixes, 09/1999, Kitty-Yo, CD
LAUB, Unter anderen Bedingungen als Liebe, 05/1999, CD
Tritop, Rosenwinkel, 1998, Infracom, CD/LP
LAUB, Kopflastig, 09/1997, Kitty-Yo, CD
LAUB, Miniversum, 1997, Kitty-Yo, CDS